If you are planning a trip to Taipei for the first time and you're still clueless about where to start, the first thing you need to realize is that eating is one of the top things to do in Taipei, after all, according to a poll CNN Travel made in 2015, Taiwan is the BEST food destination in the world, especially here in Taiwan's capital–Taipei City.
So we've compiled a 2020 updated list of what places to visit in Taipei for the ultimate culinary adventure, from gastronomic destinations to legendary street vendors, this is the food guide you will want to keep in your back pocket for your first Taipei tour, the insider scoop of some of the best Taipei eats you wouldn't want to miss.
But before we get started, what is Taiwanese cuisine exactly?
The essence of Taiwanese cuisine is complicated, to say the least, you can find culinary influences from a diverse pool of cultures due to its colonial history and multiple mass migrations of ethnic Chinese subgroups from China since the 17th century, creating a flavor profile that is uniquely Taiwanese, yet also easily accepted even by the pickiest palates.
Although Taipei is mostly known for its street food in the past, the Taipei food scene has gone through an impressive transformation in recent years, with many new culinary points of views emerging from 2nd or 3rd generation food business owners, and chefs returning home to open shop after going through culinary training abroad, bringing new life to what Taiwanese food should be or could be. Of course, we will be missing some amazing gems because the list is just 54 deep, but you will be able to find more culinary treasures than you can devour for a 2 weeks visit, so please enjoy some of the best foods Taipei has to offer and make you're next Taipei visit a trip to remember.
Noodles & Rice
Noodles and rice plays an important role in most Asian cuisines, with each culture developing their own lineage of flavors and techniques, you can often find how history and geography left marks on their food culture by examining the way their signature dishes are constructed, and there is no better way to experience Asian cuisine than trying out some of their iconic noodle and rice dishes.
1) Beef Noodle Soup (牛肉麵)
It's impossible not to start a Taipei food guide without putting beef noodle soup at the top of the list.
Beef was once considered a festive only ingredient because of its rarity in the early 20th century, but as the economy began to improve post World War 2, being able to enjoy large pieces of beef became a representation of economic prosperity, and that's how this signature Taiwanese dish was born. Now widely recognized as the national dish of Taiwan, there are multiple festivals and competitions held annually just to honor this dish.
There are countless variations of this beef, vegetable, noodle, and soup combination, but the beef shank and tendon with a five-spice and soy beef broth is considered as the basic form, Lin Don Fang Beef Noodles (林東芳牛肉麵) and Yong Kang Beef Noodles (永康牛肉麵) are often rated as champions of this style. Or if you are looking for something lighter in flavor, Jin Chun Fa Beef Noodle (金春發牛肉店) or Muslim Beef Noodle Restaurant (清真黃牛肉麵館) are both known for their white broth, an umami-rich soup made with beef and vegetables.
Danzai Noodles (擔仔麵)
This noodle dish was invented by a boatsman named Hong Yu-Tou back in 1895, he used to sell this noodle dish during summer and fall, when he was trying to make an extra buck because the constant typhoon made his boating career impossible to make ends meet, Hong's noodle invention later became so famous his customers nicknamed the dish after the wooden pole (danzai) that he carried over his shoulders to transport his noodle business, and since it was only available during the off season of boating, it is also known as "slack-season noodle soup".
Danzai noodle is usually topped with braised minced pork, shrimp, bean sprouts and cilantro, with the option of wheat noodles or rice flour noodles, and because it was designed to be more of a snack than a meal, the portion size is fairly small for an adults' appetite.
You can still find the original recipe by Hong Yu-Tou at Du Xiao Yue Danzai Noodles (度小月擔仔麵), with multiple locations throughout Taiwan, the restaurant brand is now operated by Hong's 4th generation grandchildren. Or you can visit Hawji Danzai noodles (好記擔仔麵), where they also offer a huge selection of seafood dishes that are displayed at their storefront.
Misua (麵線)
Misua is a vermicelli-like thin noodle made with a combination of wheat flour and sweet potato flour, the noodle soup takes on the form of geng (羹), which is a Taiwanese specialty of thickening the broth with a corn starch slurry that gives the dish a silky and slippery texture. The 2 most commonly seen variations are presented with oysters and pig intestines, garnished with cilantro and garlic paste, you can also enjoy this dish with a dash of black vinegar to give it an acidic kick.
You can find Misua in countless specialty food stalls throughout Taipei, but Dong Fa Hao (東發號) at Raohe Night Market and Ah-Chuan Oyster Misua (阿川蚵仔麵線) at Ningxia Night Market have both created cult followings that some of their customers swear by them being the only Misua stall they'd ever go to.
Baby Eel Noodles (鱔魚意麵)
This local delicacy was invented in Tainan during the Japanese colonial era in the early 20th century, using the local fresh water Field Eel, this fish is rich with vitamins and is considered a tonic food that brings stamina and energy.
Traditionally paired with an egg noodle called Yi-mien (意麵) that is pre-fried to bring extra aroma and texture, there are also 2 ways of serving this dish, one being a "dry" preparation of sautéing the eel and noodles with spices and aromatics, another being a "wet" preparation, where the eel and noodles gets a quick stew in a sweet and sour sauce that is thickened with cornstarch.
As this dish is so synonymous with Tainan, there hasn't been much re-inventions of this dish, most of the restaurants that specializes in the baby eel noodle in Taipei has an origin story that can be traced back to their Tainan roots, such as the popular food stall An-Ping Baby Eal Yi-Mien (安平鱔魚意麵) or the tourist friendly restaurant Tainan Ah-Hui Fried Eel (台南 阿輝炒鱔魚).
5) Braised Pork Rice / Lu Rou Fan (滷肉飯)
If beef noodle soup is the king of all noodles, then Lu Rou Fan is the master of all rice, this is that one dish that every grandma has a secret recipe to, it is essentially a sweet and savory soy braised pork belly that is poured over steamed rice, but the Lu Rou can also be used in many applications, poured over noodles, poured over vegetables, or add more ingredients into the braising liquid and make braised eggs or braised tofu.
With that said, you can imagine just how many places serve this humble dish, but it wouldn't be hard to figure out which restaurants reigns supreme, if there is a line of locals waiting, you know you came to the right place, Huang Ji Braised Pork (黃記魯肉飯) and Fu Ba Wang Pork Knuckles (富霸王豬腳) are always busy during rush hours, like 30 min long wait busy, so either come early or come late.
But even if you weren't able to avoid the lines, their Lu Rou Fan is well worth the wait, the fatty pork is tender and packed with flavor, the fat is rendered out from the gentle braise leaving a gelatinous and slightly sticky texture on your lips, and when the braising soy syrup mixes with the steamed rice, that is what Taiwanese comfort food taste like.
6) Goose Rice (鵝肉飯)
Goose became a popular meat option during the early 70's, where goose specialty restaurants ran by goose farmers first opened their doors in the Taoyuan area, and because it is so delicious, goose took the country by storm, and goose specialty stores opened shop in every city in Taiwan. The meat is usually cooked in a salt water bath, similar to Singapore's Hainan chicken, then served at room temperature over rice that is mixed with a little bit of goose fat to give it a richer flavor.
Goose is still only served at specialty restaurants that focuses on the goose, you can try out Yong Le Goose Shop (詠樂鵝肉店) where they were voted the best Goose rice in Taiwan in 2018, or Acheng Goose (阿城鵝肉) which received a Michelin Bib Gourmand recommendation in 2019.
7) Tube Rice Cake 筒仔米糕
Don't be fooled by name, it is a savory rice dish all the way. Sticky rice stir fried with dried shrimp, shallots, mushrooms in a soy based seasoning, then shaped into a tube and steamed until the rice becomes tender, often topped with a sweet and spicy sauce and coriander, it is usually eaten as a snack rather than a meal, a good boost of energy to get ready for the rest of the day.
A popular option of pairing with this dish is a side of fish ball or meat ball soup, to slightly cut through the rich flavor and dense texture.
---
Bao, Bing & Sandwiches
Bao is a yeast flour dough formed into a ball with filling inside, then steamed until cooked all the way through. Whereas, the Bing is a similar dough that is pressed flat then grilled or toasted, sometimes with a thin filling, sometimes with the ingredients mixed within the dough.
And then there are sandwiches, Taiwanese love bread, but the characteristics of the loaves are more related to Japan than Europe, as Taiwanese likes to add in a wide variation of fillings or toppings for different flavors and texture, and has created several original sandwiches that are quite delicious and a good representation of the Taiwanese bread culture.
1) Baozi (包子)
For many, the Baozi is the go-to snack for any time of the day, breakfast, late-morning, early afternoon, mid-night, you can find it in the frozen section in supermarkets, or in a dedicated steamer at a convenient store, it is EVERYWHERE.
But who can blame it, with a near endless variation of filling, it can be savory or sweet, it can be soft with a ground meat center or crunchy with chunks of bamboo shoots, there are also regional variations, such as the famous Cantonese Cha-Siu Bao, with a sweet braised pork filling and a spongy bun that melts in your mouth, or if you happen to be near Chao Zhao Baozi (潮州包子), their signature Chao Zhao style Pork Baozi is so addicting, you will probably end up ordering a 2nd one and eating it standing in front of their stall.
2) Soup Dumpling / Xiao Long Bao (小籠包)
Xiao Long refers to the small bamboo steamer the buns are steamed in, although this version of the Baozi is originally a Shanghai style snack, it has become synonymous to Taiwan food culture thanks to the global restaurant chain Ding Tai Fung, where they have turned the making of Xiao Long Bao into a science.
What makes the Xiao Long Bao special is the splash of flavorful pork broth that bursts out when eaten, giving an umami filled unctuousness that leaves an unforgettable impression. The soup inside the dumpling is created by adding a pork broth jelly to the filling, which melts back into its soup form once steamed and cooked. And if you were in Taipei, you will want to visit original Ding Tai Fung (鼎泰豐) that started it all. Yes the line is usually 1-2 hours long, but eating their world famous Xiao Long Bao at the original location that's been around for over 60 years is the kind of experience that great memories are made of.
3) Pan Fried Bun (生煎包)
Similar preparation to the Japanese Gyoza, where the Baozi is steamed and grilled at the same time, to create a crunchy crust that not just adds a layer of texture, but the caramelisation also adds flavor and aroma to the dish, making it a very popular form of the Baozi. The pan fried bun also uses the same technique as the Xiao Long Bao by added soup to the filling, so be careful not to burn yourself when you bite into it.
You will be able to find a pan fried bun stall at most night markets ( Shanghai Pan Fried Dumplings (上海生煎包)), or you can give Old Shanghai SFRY-Dumpling (老上海生煎) a try, they have been dominating Instagram in 2019 with their beautiful presentation, and is considered by many to be the best pan fried bun in Taipei. You can try both soup dumplings and pan fried buns on Taipei Eat's Iconic Tour.
4) Gua Bao (掛包)
With a presentation that resembles a hamburger, guabao has made a name for itself through western food culture. The traditional guabao is a big slab of soy braised pork belly sandwiched between a thin steamed bun, topped with pickled mustard greens, coriander, sprinkled with of a crushed peanut and sugar mixture, to give it a little sweetness and texture.
You can find the traditional preparation at almost any night market, but there are also modern interpretations where the pork belly is replaced with fried chicken, braised beef, or even seafood, so don't hesitate to give it a try if you happen to pass one by during your visit. You can line-up at the very popular Lan Jia Traditional Taiwanese Snacks or try the above 3 foods on the Iconic Food Tour.
5) Scallion Pancakes (蔥油餅)
The staple of the Taiwanese bing, it is savory and light, flaky on the outside, chewy on the inside, this is one of those street foods that can be found not just in night markets, but sometimes at the most random street corner because the demand for it is so high, it can turn into a business almost anywhere.
Some stalls has fried eggs as an add-on option, ALWAYS add the egg. Eat the egg scallion pancake with a brush of thick soy sauce and some chili paste, and you will be asking yourself where has this been all your life.
5) Pepper Cake(胡椒餅)
Unlike its baozi cousin, the pepper cake is baked inside a clay pot similar to the Indian tandoori oven, giving the pepper cake a much flaky and crunchier exterior. The filling is usually a ground pork mixture flavored with an intense black pepper spice mix, which might make it a little too spicy if spicy is not your thing, but for those who do enjoy a little spice in their food, then the pepper cake will leave a fragrant aroma and a spicy aftertaste that will make you go back for more. Raohe Night Market has a pepper cake stall that is recommended by tourists and locals alike.
7) The "Nutritious" Sandwich (營養三明治)
This sandwich was first introduced by a food stall in Keelung, using an egg and milk dough rolled into a long roll shape, served warm by frying the dough to order, so it stays crunchy on the outside and fluffy on the inside.
The roll is cut open and a layer of mayonnaise is squeezed from edge to edge, then adding in tomatoes for acidity and moisture, cucumber for freshness and crunch, ham for its smoky flavor and lastly some soy-braised eggs for creaminess, it is truly a winning combination. You can find this sandwich through out Taipei in most night markets, sometimes in a food stall, or a food truck.
8) Hongrui Zhen Sandwich (洪瑞珍三明治)
Originally created in Taichung by Hong Rui Zhen, this is a deceivingly simple sandwich, their signature ham sandwich only has 4 ingredients, white bread, mayonnaise, eggs and ham, but somehow they were able to make it into one of the best ham sandwiches you can find anywhere in the world, the secret lies in their house made sweet mayonnaise, and the pro tip of eating this sandwich is to eat it chilled.
After decades of operation, this is still a family owned business with multiple outlets in Taipei, you should also try out their strawberry jam sandwich if you were ever to visit one of their locations.
---
Street Food
Taiwan is most famous for its night markets and street food, just in Taipei alone are 6 night markets bustling 7 nights a week, 51 weeks a year (most night markets don't operate during Chinese New Years), including the world famous Shilin night market and Raohe Night market. You can find most of this list in almost every night market, with just a few exceptions that are a little more regional.
1) Stinky Tofu (臭豆腐)
This is perhaps the most infamous street food Taiwan has to offer. The stink of the tofu comes from its fermentation process, where the bean curd is often fermented up to a few weeks, but as foul as it may smell, you don't really taste the fermentation, it is more of a deeper soy bean flavor that adds a complex umami to the tofu.
There are usually 3 ways of preparing stinky tofu, steamed, stewed or deep fried, the deep fried version can be found in almost every night market, served with pickled cabbage and chili sauce. Don't think you can stomach an whole order? Go on the Iconic Food Tour with Taipei Eats.
2) Oyster Omelet (蚵仔煎)
Oysters are a big part of the Taiwanese diet, and the oyster omelet is probably the most eaten oyster preparation as it has been a staple of the street food category for decades. You first pan fry the oysters with eggs and vegetables, then a sweet potato batter is ladled over the oysters to form a slightly chewy and springy thin pancake (this texture is called "Q" in Taiwan, a sought out characteristic in starchy foods), served with a sweet and spicy chili sauce. Ningxia night market has 3-4 wildly popular omelettes such as 圓環邊蚵仔煎. However, if you are looking for an hidden, cities best oyster omelette go on the night market tour with Taipei Eats.
3) Grilled Corn (烤玉米)
Taiwanese grilled corn is quite different than the grilled corn you find anywhere else, mostly because Taiwanese likes to use waxy corn for grilling compared to the sweet corn variety that Western cultures are more accustomed to. The reason of choosing the waxy corn is mostly for its chewy texture, you guessed it, the Q texture.
At the end of the grilling process, a BBQ sauce made of soy sauce, oyster sauce, Sha-cha sauce, garlic and sesame is then brushed onto the corn and thrown back onto the grill to give the sauce a sticky and gooey finish.
4) Pig's Blood Cake (豬血糕)
This is a very popular street food that can be found at every night market, Pig's blood is first mixed with sticky rice and steamed until cooked all the way through, giving it a chewy mochi like texture. A thick layer of a sweet soy sauce is brushed onto the blood pudding and sprinkled with a generous amount of finely crushed peanuts and some coriander.
5) Shrimp Roll (蝦捲)
The shrimp roll is a historic snack, where people used to ground leftover seafood into a paste and deep fry them so the uneaten seafood wont go to waste. The modern shrimp roll has many interpretations, but the body of the roll still maintains a similar combination of shrimp, squid and fish paste, fried until the outer layer turns golden brown, and served with a simple mustard sauce. Can be found on the Taipei Eat's Old School Food Tour.
6) Salt Water Chicken (鹽水雞)
As the name mentions, salt water chicken is chicken cooked in salt water and chilled in an ice bath to tighten up the skin and the meat, to give the chicken a chewier texture. There are also a wide variety of vegetables and tofu products to choose from that are also blanched in the same salt water cooking liquid, this is one of the most popular street foods to enjoy with a nice cold beer.
7) Fried Chicken (鹹酥雞)
Fried chicken is probably the most beloved guilty pleasure in Taiwan, and of course when we talk about Taiwanese fried chicken, it's not just chicken, but also the huge selection of all the other ingredients you can find at the stall, from green beans to baby crabs to sticky rice sausage, it is hard not to be excited when you're choosing from those small sinful piles of deep fried goodness.
8) Ba Wan (肉圓)
The typical Ba Wan is a pork mixture wrapped inside a starchy and chewy (that "Q" texture) wrapper made from sweet potato starch, imagine an oversized translucent dumpling. There are many schools for this dish, where southern Taiwan steams the ba wan, and northern Taiwan adds another confit process after steaming, to add another crunchy element on top of the Q texture. Same with the sauce, where some likes to serve it with a sweet and spicy miso sauce, some prefer a more savory garlic and soy sauce. Sample this delicious dumpling on Taipei Eat's Old School Tour.
9) Tien Bu La (甜不辣)
Tien Be La, also known as tempura, is originally a roll shaped deep fried fish paste that is braised in a light katsuo-bushi broth, but don't get it mixed up with the Japanese tempura, which is a method of fried food preparation.
Tien bu la now refers to the method of braising a variety of ingredients in the light broth, ranging from pork meatballs, Daikon radish, eggs, and all kinds of seafood balls, it is often served with a sweet chili sauce.
10) Lu Wei (滷味)
Lu wei is a variety of ingredients braised in a soy and five spice liquid that is served at room temperature, the usual Lu wei ingredients include chicken wings, been curds, eggs, beef shank and pig's blood cake. There is also the warm version called Heated Lu Wei (加熱滷味),where your ingredients of choice are reheated to order, which you can also have the option of adding instant noodles or glass noodles to your lu wei, turning the lu wei into a complete meal.
11) Sausage (香腸)
Meat in tube form is beloved all over the world, the same goes in Taiwan, you will find grilled sausage stalls literally everywhere, from music concerts to political rallies, if there is a gathering of people, there is a sausage stand.
The Taiwanese sausage is a sweet pork sausage, the traditional way of eating it is with a side of raw garlic, or another popular variation called "Big Sausage Wrapped Small Sausage (大腸包小腸)", which is the pork sausage stuffed into a sticky rice sausage. You can try the original presentation of this night market staple on Taipei Eat's Night Market Tour.
Sounds greasy? Yes.
Taste delicious? YES!
12) Hakka Rice Cake (草仔粿)
The Hakka Rice Cake is a variety of fillings wrapped in a green glutinous rice cake, the green hue comes from wormwood juice, a medicinal herb that adds a pungent herbal aroma to the rice cake. There is a wide range of what the fillings can be, from sweet red bean pastes to savory dried radish and dried shrimp.This is a specialty in the Jiufen area, so if you have planned a trip to Jiufen, don't miss out on Ah Lan's Hakka Rice Cake (阿蘭草仔粿), they have been operating since the 50's and is widely considered as the best Hakka Rice Cake in Taiwan.
13) Ah Gei (阿給)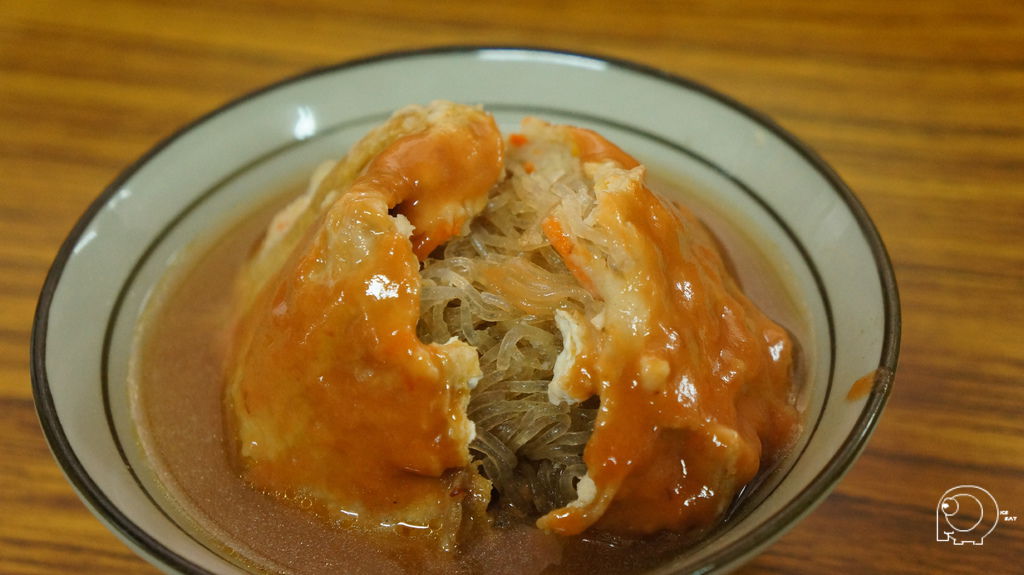 Ah Gei is the specialty of Tamsui, the name comes from the Japanese term a-ge, which is short for Abura-age, meaning fried tofu. Ah gei is a hollowed out fried tofu stuffed with glass noodles and sealed with fish paste, usually served with a sweet chili sauce. This dish was created in the 60's, the original store that invented it is still operating under the name Tamsui Old Ah gei (淡水老牌阿給), and because they open their doors at 5am and close shop after they're sold out, it is common to see their closed sign hung up right before noon, so make sure to get there early.Popular Spot: Tamsui Old Ah gei (淡水老牌阿給)
14) Oyster Fritter (蚵仔酥)
As mentioned, Taiwanese find ways to consume oysters, and the oyster fritter is probably one of the simplest forms, dipped in a thin batter and fried to golden brown and delicious, usually seasoned with a salt and pepper, the burst of oceanic flavors from the plump oysters are always delightfully satisfying. Taipei Eat's Old School Food Tour
---
Hot Pot & Soups
Hot pot is one of those fundamental pillars that define Taiwanese food culture, and despite it taking on the form of a winter meal option, Taiwan locals enjoy it any time of the year.
And then comes soup, soup is viewed as a standard part of the meal in Taiwan, your server will often ask you if you would like some soup when you order, not just because they're trying to rack up your bill, but because it really is how the locals eat.
There is even an official statement to back up this claim, the Taiwanese government actually promoted a 5 dish 1 soup meal combination called the "Plum Blossom meal" for small families, to reduce excessive eating back in the early 70's, that truly shows how important soup is.
1) Hot Pot (火鍋)
Hot Pot begins with a simmering pot of hot broth sitting on a burner as the centerpiece, accompanied by a spread of thinly sliced meat, vegetables, seafood, meatballs, tofu, and fish cakes, you gently place your desired ingredients into the pot to cook, then dipping it into a savory sauce you've just customized from a variety of condiments.
For the adventurous eaters, spicy hot pot (麻辣鍋) is something you won't want to miss, with spicy hot pot institutions that have been around for decades, like Taihodien Restaurant (太和殿麻辣火鍋) or Ning Chi (寧記火鍋店), or new schools restaurants like Spicy God Hot Pot (麻神麻辣鍋) are all good options to consider.
If you're looking for something more mild, you can try Hsiao Hong Mei Hot Pot Restaurant (小紅莓自助石頭火鍋城), where they sauté your choice of meat with onions, garlic and sesame oil inside the pot before adding the broth and other ingredients, or try Yuan Xiang Sha Cha Hot Pot Restaurant (元香沙茶火鍋) where they're famous for their specialty house-made Sha Cha Sauce, with the option of the local beef breed Taiwanese Yellow Cattle.
2) Four Spirit Soup (四神湯)
Four spirit soup is a pig intestine soup that is cooked with 4 kinds of Chinese herbal ingredients,traditionally, the 4 ingredients are gorgon nut, lotus seeds, Chinese yam, and Chinese Tuckahoe, which has the medicinal effect of strengthening the stomach and improve indigestion.
The modern four spirit soup often replaces the gorgon nut with Chinese pearl barley to lower its medicinal taste, and give a more desirable texture, it is a popular soup that can be found in most night markets. An optional tasting is offered on Taipei Eat's Iconic Tour.
3) Milkfish Soup (虱目魚湯)
Milkfish is a beloved fatty white fish that is heavily consumed in Southern Taiwan, especially in Tainan, where milkfish farming is a big part of the local economy.
Milkfish soup is a light soup that is usually just seasoned with ginger, scallions, and salt, but keep in mind that milkfish is a bony fish, always check for pin bones before biting into it.
4) Medicinal Pork Rib Soup (藥膳排骨湯)
The medicinal pork rib is a winter staple in Taiwan, as the medicinal effect of the soup is aimed to increase circulation and relax soreness from joints and muscles, which often gives a warm and fuzzy feeling after eating during the wintertime.
The medicinal broth is usually simmered for hours to cook off the bitterness from the medicinal ingredients, which later the pork ribs are added to tenderize and absorb the flavors from the broth. This is another one of those dishes where every household or restaurant has its blend of medicinal ingredients, resulting in every store tasting a little different from the other.
5) Fish Ball Soup (魚丸湯)
Fish paste products are very popular in Taiwan, other than the tien bu la genre, you can also find it in almost every restaurant or food stall in its purest form, the fish ball soup.
Milkfish ball soup is one of the more popular options, there is also the Fuzhou fish ball soup, which is unique in the way of having a pork filling, basically a meatball wrapped inside a fish ball. There are many other seafood ball options as well, like the squid ball or shrimp ball, which are also fan favorites when eating hot pot. One of the best fish ball soups in Taipei can be savored on the Taipei Eat's Old School Food Tour.
6) Geng (羹)
As mentioned in the Misua section, geng is a Taiwanese specialty of thickening a soup with a cornstarch slurry that gives a silky and slippery texture, since the slurry can be used in almost any type of soup, that makes it difficult to narrow down how many types of geng are served in Taipei.
The most commonly seen is the pork geng (肉羹), or sometimes pork and mushroom geng (香菇肉羹) that are offered in many small eateries, there are also duck geng (鴨肉羹) and squid geng (花枝羹) that are typically served in specialty stores, then there is the southern Taiwan favorite that made its way to Taipei, the narrow barred Spanish mackerel geng (土魠魚羹), which the Spanish mackerel is often considered as the top 5 best tasting fishes to eat in Taiwan.
---
Breakfast
"Breakfast is the most important meal of the day" is somewhat of an understatement in Taiwanese food culture, there are just as many breakfasts only restaurants and eateries as there is any other type of cuisine, with the shao bing you tiao and the Taiwanese breakfast shop representing the 2 largest genres.
1) Shao Bing You Tiao (燒餅油條)
Shao bing (燒餅) is a toasted sesame flatbread and the you tiao is a fried breadstick, both being essential parts of the traditional Chinese style breakfast, alongside the rice roll (飯糰), egg crepe (蛋餅) and soy milk.This is the type of breakfast that has been eaten for centuries by the Chinese Han culture, and there are a few institutions that are masters of this type of breakfast, while Fuhang Soy Milk (阜杭豆漿) is famous for their shao bing with a guaranteed 15-20 minute wait any time during business hours, there is also Yong He Soy Milk King (永和豆漿大王) that is open 24 hours, which also makes it a popular destination for late-night cravings.
2) Taiwanese Breakfast Shop (台式早餐店)
When it comes to the Taiwanese breakfast shop, we are talking about the shops that serve mainly sandwiches and egg crepes, which can be found near schools, business districts, residential communities, or hospitals. It's basically everywhere.
What makes the Taiwanese breakfast sandwich unique is the usage of a sweet salad dressing that is smeared from edge to edge onto the toast, with shredded cucumbers to add freshness and crunch. The latest trend for the sandwich is to use a charcoal grill to toast the bread, giving it an extra layer of smokiness.
The egg crepe is a wheat and sweet potato flour crepe thrown on top of a griddled egg with a variety of toppings to choose from, like bacon, pork floss, corn, cheese or tuna. There are usually other menu additions to order from that also utilizes the griddle, such as the radish cake or pan-fried noodles in mushroom or black pepper sauce.
---
Sweets
Although traditionally Taiwan doesn't have a strong dessert culture, as fresh fruit is usually served as the ending to a meal, but that doesn't mean that Taiwanese doesn't enjoy a sweet snack whenever they have the chance, and there are many delicious specialty desserts that you will find only here in Taiwan.
1) Fruit (水果)
Being known as the fruit kingdom, Taiwan has a diverse and abundant production of fruit thanks to its subtropical climate and distinct geography, you will be able to find fresh fruit in supermarkets, traditional markets, fruit stores, and also food stalls that sell pre-cut fruit at most night markets.
There are a variety of fruit options for different seasons, there are strawberries and star fruits during springtime, watermelon, mango and lychee during summer, persimmon, passion fruit, and peach during fall, tangerines, wax apple, and jujubes during winter, with pineapple, papaya, banana and guava almost year-round, so don't miss your chance to try some of these out.
Note: I definitely recommend avoiding pre-cut fruits in the night markets as most of the vendors soak the fruits in sugar water and with fruits already being sweet in Taiwan, it becomes really sweet!
2) Eight Treasure Ice (八寶冰)
Shaved ice has been a summer staple with a long history that goes back to the early 20th century, and the eight treasure ice can be considered as the granddaddy of them all. Borrowing from the concept of the traditional dessert eight treasure rice, the eight treasure ice uses some of the same ingredients, such as sweet red beans, sweet taro, and sugar braised peanuts.One of the most beloved institutions that sell the eight treasure ice is Long Du Shaved Ice Experts (龍都冰菓專業家), which has been selling their signature eight treasure ice since 1920.
3) Mango Shaved Ice(芒果冰)
If you think mango shaved ice is simply using mango as a topping, then you are in for a treat. Besides using fresh mango, the ice itself is also shaved from a mango juice ice block, drizzled with mango syrup, and sometimes with a couple of scoops of mango ice cream depending on how the store constructs it, the mango shaved ice has been named one of the worlds finest desserts by CNN travel.If you were to visit during May and August when mango is in season, remember to visit Ice Monster for the ultimate mango experience.
4) Aiyu Jelly, Grass Jelly (愛玉、仙草)
The aiyu jelly is made from a fruit called the jelly fig that can only be found in Taiwan, while the grass jelly is made from the Chinese mesona plant, which is also a regional plant unique to southeast China and Taiwan.The aiyu jelly is typically enjoyed as a summer snack, flavored with lemon juice and honey, but the grass jelly can be eaten in both cold and warm preparations, with a light licorice taste, the grass jelly is delicious with just a simple brown sugar syrup, and can often be found added into milk or milk tea. Can be tried on the Taipei Eat's Old School Food Tour.
5) Wheel Cake (車輪餅)
What makes the wheel cake so irresistible is its contrast in texture, using a batter similar to the waffle as the outer crust, the batter becomes crispier as it cooks, while the center filling remains soft and gooey, with red bean paste, custard cream, sesame and taro being the most popular flavor options. The wheel cake is a popular street food that can be found not just in night markets, but also in food stalls near train stations or MRT stations, and sometimes near hospitals and schools.
6) Taro (芋頭)
Taro is a national favorite when it comes to dessert flavors, you can find taro cakes, taro puffs, fried taro balls, sweet taro gnocchi, taro popsicles, taro milk tea, taro slushy, there really isn't any limitations on how the taro can be made into a dessert.
7) Pineapple cake (鳳梨酥)
The pineapple cake is an iconic Taiwanese pastry, one of the most purchased food souvenirs by far. The pineapple cake is a chewy and sweet pineapple filling baked inside a crumbly and buttery pastry, Chia Te Bakery (佳德糕餅) and SunnyHills (微熱山丘) are some of the most popular brands, and will be a memorable gift to give out or simply enjoy all by yourself. There is a hidden pineapple cake bakery tucked away in the Xinyi district that is visited on the Iconic Food Tour by Taipei Eats.
8) Buffalo's Tongue (牛舌餅)
The buffalo's tongue is a cracker with a maltose center, it got the name buffalo's tongue because of its long shape. Although this is a specialty of Yilan, it has made its way to most souvenir stores and is a great gift to choose from.
9) Sun Cake (太陽餅)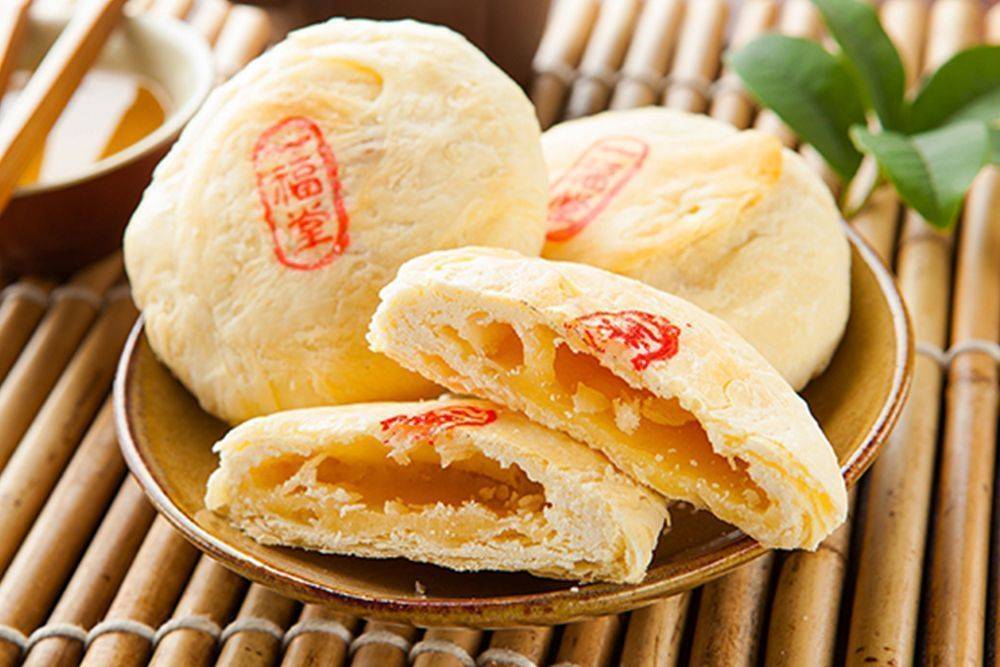 Sun cake is a buttery and flaky pastry with a maltose filling, originally a specialty of Taichung, it can now be found in many traditional pastry stores throughout Taipei, just like the pineapple cake and buffalo's tongue, the sun cake is a popular food souvenir option.
---
Drinks
Taiwanese are very enthusiastic about beverages, and we're not just talking about tea and coffee, but also many other specialty drinks that have been favorites for the local palate, after all, beverage brands are becoming one of Taiwan's' largest food exports, with expansions to Europe, northern America and southeast Asia.
1) Bubble Tea (珍珠奶茶)
Bubble tea, also known as boba, has become one of the food items that put Taiwan on the map, the concept is very simple, sweet tapioca pearl added to milk tea, but the flavor and texture combination really makes this an addicting drink, and the fulfillment from the tapioca pearls also makes this beverage a great snack option.
The origins of the bubble tea has been linked to Chun Shui Tang (春水堂) and Hanlin Tea Room (翰林茶館), whoever was the real inventor of this drink will most likely remain a mystery, but we are glad that they did, as the bubble tea is now a part of daily life for many, local and abroad.
2) Oolong Teng (烏龍茶)
Taiwan's oolong tea is renowned as being the best in the world, one reason being the combination of climate and geography, the other reason being the mature production methods. Taiwan produces over ten varieties of oolong tea, each with a unique characteristic and flavor profile. You can find tea houses all around Taipei, with some being direct distribution sites of the tea plantations from southern Taiwan.
3) Papaya Milk (木瓜牛奶)
The papaya milk was one of the early inventions that sparked a beverage trend way before the popular tea houses or coffee shops. Although the popularity of the papaya milk has gone down due to all the new beverage options, it can still be found at most juice stores or papaya milk chain stores like City Milk or Taipei Milk King (台北牛乳大王).
4) Herbal Tea (青草茶)
Also known as 100 herb tea, this is another one of those items that doesn't have a standard recipe, making every herbal tea taste a little different from the other, but all maintaining the same medicinal effect of lowering what the Chinese medicine refers to as "internal heat", which is the cause of all types of body discomforts, from bad breath to mouth inflammation, insomnia, and mood swings.
Other than specialty stores like Healing Herbar (老濟安) or Taiwan Herbal Shop (一兩十錢青草舖). While you can find herbal teas in most beverage shops or even convenient stores, if you want to visit a 3rd generation shop that has been selling teas for 3 generations, give the Old School Food Tour a look.
5) Winter Melon Punch (冬瓜茶)
Winter melon punch has a long history that can be dated to almost 200 years ago, the method is simple, you cook down the winter melon with malt sugar into sugar blocks, and then melt the winter melon sugar blocks with water to the sweetness of your liking.
To most Taiwanese, the flavor of winter melon punch will always bring back childhood memories no matter which generation they belong to. You will be able to find the winter melon punch at any beverage shop, and one of the popular versions of it is the winter melon punch lemonade, a great summer drink to cool down during those hot and humid days. Grab a cup at most night markets or try some on the Iconic Tour.
6) Craft Beer (精釀啤酒)
This might be a surprise to many, but microbreweries have been popping up left and right in Taiwan for the past 10 years, and have reached a point where craft beer has become commonplace, with many local brands gaining critical and commercial success. So if a nice cold pint is what you enjoy, you can visit Taihu Craft Beer Tasting Room (啜飲室) or Jim & Dads Taipei (吉姆老爹 台北大稻埕店) to experience some of the fantastic local brews Taiwan has to offer.
Extra Eats
Here are 2 honorable mentions of Taiwan food culture that don't necessarily fit into the categories above, but are a huge part of how the locals like to eat.
1) Re Chao (熱炒)
Re Chao means hot stir fry, similar to a Japanese izakaya or a British pub, the food at the re chao is mostly designed to accompany the star of the show, beer. You can find all kinds of cuisines at the re chao, from Taiwanese specialties like the three-cup chicken and sha cha lamb noodles to sashimi and kimchi pork stir fry, the re chao restaurants are almost always crowded, noisy and full of energy, a great way to experience Taiwan's' drinking culture.
2) Seafood Restaurants (海產店)
Taiwan is an island in the Pacific Ocean, so you can count on the seafood is a big part of the locals' diet. The typical seafood restaurant will display their ingredients right in front of the store, where the customers can choose exactly which ingredients they like, and request the chef to prepare the dish however they like, whether it's deep-fried, stir-fried or steamed, the customer has total control.But don't be too intimidated by all the decisions you need to make, the staff is always happy to recommend what the catch of the day is, and what kind of cooking method they think suits it the best. So if you're up for the challenge, you can try out Shien Jin Seafood Restaurant (先進海產店) or Shin Tung Nan Seafood Restaurant (新東南海鮮餐廳) for a memorable seafood experience.
---
I hope this article will shed some light on what places to visit in Taipei for your next Taipei trip, if you have any questions or have any comments, please leave a message in the comment section, we would love to help.