Planning the right activity for corporate retreats and team building activities can be hard in any city. Fancy dinner? Physical challenges? Local experience? Last resort, get drunk together! The best activities incorporate a bit of all the elements; food, fun, culture, and of course a little of booze never hurts! Here are some of our favorite things to do in Taipei for teams visiting Taiwan with limited time and at the same time want to get a cultural taste of the country.
1) Hike
If your group are fans of nature, hiking, and adventures, the company Taiwan Adventure Outings (short TAO) has the perfect activities for you. You'll have to allocate some more time, but it'll get your team out of your office chairs and check out the beautiful scenery and breathtaking views of Taiwan's wild nature, learn more about the local aboriginal culture, or join a beach cleanup. You might end up a little sweaty or drenched (depending on the weather) but afterward, you definitely have learned a little bit more about the island.
Both of the founders of TAO are well known in the local community as they are the ones organizing the National Taiwan Beach Clean Up every year. And that, is no easy feat.
What we like about them is not just their group activities, but that they plan all of them with the environment in mind. Joining their activities is not just an adventure for you and your coworkers, but also a small contribution to protect our mother earth.
Website: TAO
Experience: Hiking, River Tracing
Contact: contact@taoutings.com
Duration: 3 hrs~3 days
Price: $$$
2) Food Tour
Taiwan is renowned for its food, especially xiaochi (小吃). Taipei Eats curates food tours with this in mind. On a journey with a perfect balance of tasty and adventurous, your team will bond over the various local dishes and spirits served at mom & pop restaurants.
On the tours, you will try iconic Taiwanese dishes ranging from Taiwanese burger (刈包 – gua bao) to traditionally fermented tofu, aka Stinky Tofu. As you eat, you'll explore some of the back alleys of the city and see real Taipei.
They've worked with a number of companies such as Google, Amazon, and SAP, just to name a few. The guides are local or have lived in Taipei for a while and are quite open with their secret tips for local restaurants and bars…you just need to ask. If you're after some of the best foods in the city, throw on your stretchy pants go hungry.
Website: Taipei Eats
Experience: Iconic Food Tour, Craft Beer & Bites Tour
Contact: hello@taipeieats.com
Duration: 2~4 hrs
Price: $$
3) Tea Tasting Ceremony
We all know Oolong Tea, but you probably don't know that it's actually a Taiwanese tea! THREE LEAFS Tea is a small local company focusing on introducing Taiwanese Oolong Tea internationally. All their products are from small-batch tea farmers and the owner Nancy makes sure of the quality personally. Every couple of weeks, she visits her suppliers and makes sure to build a trusting relationship with them.
If you want to know more about how to brew tea (besides just throwing in a tea bag into a cup of hot water and ruining it with sugar), you're at the right address.
Nancy doesn't officially offer tea ceremony classes on her website, but if you message her brand's Facebook, she's flexible on setting up a time with you. Apart from that, she mentioned she also holds tea tasting and tea roasting, classes. She's a fun, enthusiastic lady, and after meeting her, you'll be hooked on traditional Taiwanese tea.
Website: 3Leafs
Experience: Taiwan Oolong Tea Tasting
Contact: info@3leafstea.com
Duration: 1~2 hrs
Price: $
4) LazerTag
If rain or bad weather is in the forecast, get rid of your frustrations on a two-hour Lazertag game. Run off your calories from previous uhh… Food tours and "kill" each other in a friendly battle. Every round lasts around 5-10 minutes and has different targets and rules. One more bloodthirsty than the other ;). It's a good mixture of team and battle royal games and each round, you will have the best player(s) crowned. If you need revenge for the stolen pen the other day at the office, there's no better battleground than in the B1 shooting area of Lazertreks!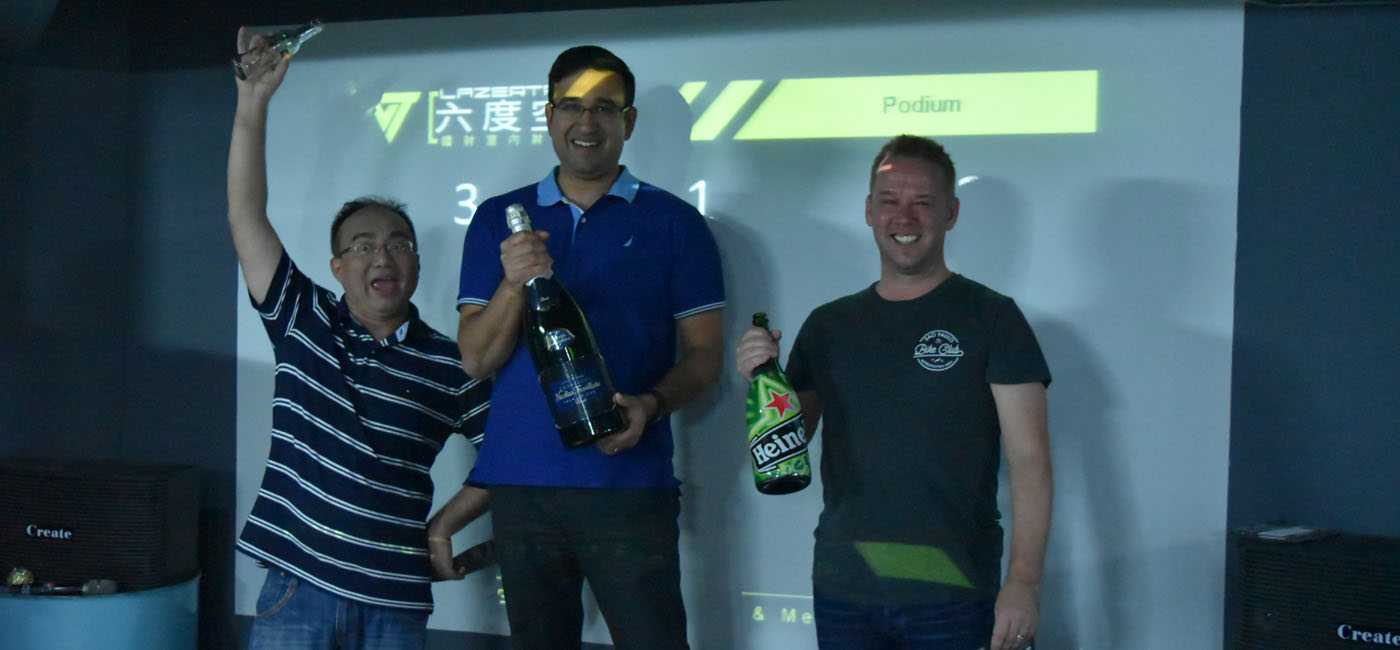 If you want to sign-up for this, you'll have to work through the wonky website or have your local team give them call. The staff is friendly and zapping good time.
Website: Lazertreks
Experience: Lasertag
Contact: +886 2 2598 0880
Duration: 1.5~4hrs
Price: $
5) Escape Room
Another place to go for indoor activities is the Limitless Escape Room, which is located in Gongguan, one of the busy student areas in Taipei. This time grab your smartest coworkers and get yourself locked up in a dark room and try to find the exit. Be warned, for this game, you really need to figure out your teamwork. The usual one person does all will 100% fail. Attention to detail, logic, and critical thinking are the most essential skills you need. Ah…don't forget your courage…
Website:Limitless Escape Room
Experience: Prison Break, The Warrant
Contact: limitlesstaiwan@gmail.com
Duration: 1~2hrs
Price: $
6) Amazing Race
When was the last time you went on a treasure hunt? Taipei has a lot of food gems, and if you think plainly having them served is boring, we recommend checking out Tastes of Taiwan Amazing Race. Get your daily dose of adrenaline by completing different challenges, all the while experiencing the best of Taipei life.
You swarm out with your team with a limited budget, and your goal is to get to the end. Don't think it's going to easy, though. You'll have to find and solve hints, eat as much as you can, travel as cheap as possible and obviously don't forget to have fun! Also, remember, you might meet some unexpected challenges 😉
Website: TasteRace
Experience: Taste Race
Contact: Contact form
Duration: 2~3hrs
Price: $
7) Animal Shelter Volunteer
We all binge-watch heartwarming shelter stories online and every time we wish we could actually do something to help our furry friends. Here in Taipei the Pack Sanctuary has been working on saving animals from awful circumstances and they also try to educate the public on proper pet ownership and animal welfare.
Help out one afternoon at a shelter, satisfy your need for some dog-love, and collect some good karma.
They are only open to the public on weekends, however you can make an appointment with them to visit during the week. The owners are really loving and welcome all the help they can get.
Website: PetSanctuary
Experience: Volunteer at a shelter
Contact: Contact Page
Duration: 1~2hrs (1hr drive from Taipei city)
Price: —
8) Karaoke
We are all a little hesitant sometimes with channeling our inner Beyoncé (besides in our shower and while making breakfast…). But honestly, you should give Taiwan style Karaoke a chance. Instead of being stuck with a bunch of strangers, you can rent out a room just for you and your coworkers, order some drinks, food, and channel The Voice in your colleagues.
The moment you enter Partyworld, which is one of the biggest Karaoke chains in Taiwan, you will have a completely different experience than your generic Karaoke bar. The chic, marble lobby reminds you of some nice hotel and you definitely have never seen a whole high-rise building FULL of karaoke rooms. You can choose a private room according to your group size. The food they offer is pretty good too. It's one of our favorite late-night snacks! (Check out our Blog for more late-night snacks).
In Taipei, Partyworld is one of the most popular spots to either warm-up for your night out or end it…because it's open 24/7, so definitely give it a try! There is no English site, so have your local colleagues call and book a room in advance.
Website: Cashbox
Experience: Singing you heart out
Contact: Depends on which location (use google maps)
Duration: 1~24hrs!
Price: $
9) Cooking Class
A great foodie knows that if you like good food, you usually also need to know how to cook it. Join Cookinn for their cooking classes and learn how to recreate your favorite Taiwanese dishes at home. Beef noodles, soup dumplings, or Gua Bao, etc. you have a great variety of different courses to choose from. You can also challenge your team on: "Who makes the ugliest dumplings, although trying?" or "Who boils the worst Tapioca Pearls?".
Fun times, indeed and if you happen to find a team member who is just naturally gifted in cooking, you will know who bakes the birthday cakes from now on.
Website: CookInn
Experience: Cooking Class
Contact:info@cookin.tw
Duration: 3~4hrs
Price: $$$
10) Go-Kart
Last but not least, if you want to get out of Taipei City to the outskirts, satisfy your need for speed, GoKart at LOVE KART is your choice for today! Hop into a kart and race the track while enjoying some fresh air! GoKart driving is just one of these things that you never end up doing because going alone would be boring. But doing it in a competitive spirit with your coworkers? It sounds like a hella good time. Be careful, though, and wear some SPF, Taiwanese sun can be tricky.
The great thing about LOVE KART is also that it is located in Bali (not to be confused with the Bali in Indonesia). Bali is a district of New Taipei City, located in the north and near the shore. You can visit the old street and small towns over there after and enjoy a little bit of Taiwan countryside charm.
Website: LoveKart
Experience: Go-carting
Contact: Contact Page
Duration: 1~4hrs (35mn drive from city)
Price: $$$